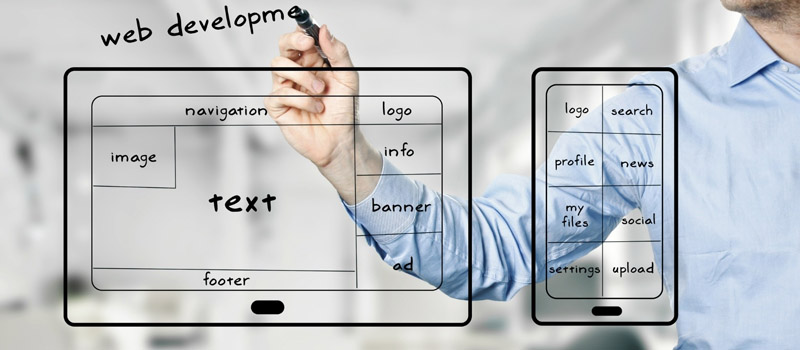 Introduction
We all know, having a strong online presence is paramount for any business. Whether you're a small startup or an established enterprise, a well-designed website is your virtual storefront, showcasing your brand and services to potential customers. If you're seeking superior web development solutions in Charlotte, your search ends here! Above Bits LLC is your trusted partner for professional website design and web development that not only captivates your audience but also drives business growth.
The Importance of an Outstanding Website
In the age of technology, a compelling website is the cornerstone of your online identity. It's your chance to make a great first impression and provide visitors with a seamless user experience. A strategically designed website can boost customer engagement, increase conversion rates, and establish your brand's credibility.
Above Bits LLC: Your Web Development Experts
When it comes to creating exceptional websites, Above Bits LLC stands out as a leading web development agency in Charlotte. With years of experience and a track record of successful projects, they possess the expertise needed to turn your vision into a reality.
Tailored Solutions for Every Business
Above Bits LLC understands that each business is unique. Therefore, their web development solutions are customized to meet your specific goals and requirements. Whether you're an e-commerce store, a service provider, or a nonprofit organization, they have the skills to create a website that aligns with your objectives.
Creative Design that Speaks Volumes
In the digital world, aesthetics matter. Above Bits LLC excels in creating visually appealing designs that resonate with your target audience. Their team of skilled designers crafts layouts, color schemes, and visuals that capture the essence of your brand and create a memorable user experience.
Seamless User Experience (UX) and User Interface (UI) Design
User experience is a critical factor in determining the success of a website. Above Bits LLC takes pride in designing intuitive user interfaces and seamless user experiences. Navigation, accessibility, and functionality are seamlessly integrated to ensure that visitors have a positive interaction with your website.
Mobile-First Approach for Modern Audiences
In an era dominated by smartphones, having a mobile-responsive website is non-negotiable. Above Bits LLC adopts a mobile-first approach to web development, ensuring that your website looks and functions flawlessly across various devices, screen sizes, and orientations.
Content Management System (CMS) Expertise
Managing your website should be effortless. Above Bits LLC specializes in various content management systems, allowing you to easily update and maintain your site's content without technical hassles. Whether it's WordPress, Joomla, or another CMS, they've got you covered.
E-Commerce Solutions for Online Retailers
For businesses venturing into e-commerce, Above Bits LLC offers tailored e-commerce solutions that drive online sales. From product catalog management to secure payment gateways, they create a shopping experience that encourages conversions.
Search Engine Optimization (SEO) Best Practices
A stunning website is of little use if potential customers can't find it. Above Bits LLC incorporates SEO best practices during development, ensuring that your website is search engine-friendly from the ground up. This boosts your chances of ranking higher in search results and attracting organic traffic.
Secure and Scalable Websites
Security and scalability are crucial aspects of web development. Above Bits LLC employs robust security measures to protect your website from threats. Additionally, they build scalable architectures that can accommodate your business's growth and evolving needs.
Integration of Advanced Features
Do you need special functionalities on your website? Above Bits LLC has experience in integrating advanced features, such as chatbots, custom forms, booking systems, and more. These features enhance user engagement and streamline interactions.
Collaborative Approach for Success
Above Bits LLC believes in a collaborative partnership with their clients. They keep you involved throughout the development process, incorporating your feedback to ensure that the final product aligns perfectly with your vision.
Transparency and Timely Delivery
Transparency is the foundation of trust. Above Bits LLC maintains open communication, keeping you informed about the project's progress. Moreover, they adhere to deadlines, ensuring that your website is launched on schedule.
Testimonials: What Clients Say
Don't just take our word for it! Clients of Above Bits LLC have expressed their satisfaction with the quality of service and the exceptional websites delivered. Their positive feedback underscores the commitment and dedication that the agency puts into every project.
Case Studies: Real-World Success Stories
Looking for concrete examples of Above Bits LLC's expertise? The agency proudly showcases a range of case studies that highlight how they've helped businesses achieve their online goals through strategic web development.
FAQs
Can Above Bits LLC handle both website design and web development?
Absolutely! Above Bits LLC is a full-service web development agency that covers both design and development aspects to create comprehensive and cohesive websites.
How long does the web development process usually take?
The timeline for web development varies based on the complexity of the project. Above Bits LLC provides accurate estimates after understanding your requirements.
Will my website be optimized for search engines?
Yes, Above Bits LLC prioritizes search engine optimization during the development phase to ensure that your website has a strong foundation for ranking well on search engines.
Can I update the content on my website after it's launched?
Definitely! Above Bits LLC designs websites with user-friendly content management systems, making it easy for you to update and manage content without technical expertise.
What security measures are implemented during web development?
Above Bits LLC implements industry best practices to secure your website from cyber threats, ensuring that your data and users are protected.
How do I get started with Above Bits LLC for web development?
Starting with Above Bits LLC is simple! Just reach out to their team via their website or contact number, and they'll guide you through the process of kickstarting your project.
Conclusion
In the competitive digital landscape, having a captivating and functional website is a necessity. Above Bits LLC excels in providing expert web development services in Charlotte, ensuring that your business not only thrives online but also leaves a lasting impression on your audience. With a commitment to quality, innovation, and client satisfaction, Above Bits LLC is the partner you need for achieving online success. Send us a message!